How to do keyword research for SEO
What is keyword research?
Keyword research is super important for search engine optimisation and developing website content. It makes up a large part of any successful SEO company strategy. In simple terms, keyword research is the art of discovering what search terms your target audience uses online. These keywords are like gold nuggets for your business or brand. Once you have found your keywords you can then start writing content to incorporate them. The aim is for your web pages or content to be visible when users search online using these keywords.
Why is keyword research so important?
Keyword research is important because it helps you find the correct audience to target. If you use a set of keywords that your target audience isn't actually using, then you are not going to be found or visible to them in search results. Basically, it doesn't make sense to optimise for words that people don't use. Good keyword research makes sure that you are using the same words as your target audience.
Keyword research provides helpful search data and information like:
What are people searching for online?
How many people are searching for it per month and their location?
How competitive or difficult it is to rank for the search terms.
Before you start keyword research, ask yourself the right questions
Before you start any keyword research, you first have to understand who your customers are. You might have an idea of what keywords etc you want to rank for, but that doesn't mean it's going to be a success without doing the research first. There's no guesswork here, your sole focus should be on your target audience and what they are "actually" searching for. By using keyword data to find those search terms will lead to higher conversion rates and website traffic.
Here's an example:
Johnson & Sons Removals (a London based removal company) need help to be more visible online and in organic search results. Before any SEO takes place, you need to first understand more about their customers and target market.
Here's some questions you might ask about their customers:
What types of removals are they searching for?
What words or keyphrases do they use to search online?
What questions are they asking?
What devices are they using to search online (mobiles etc)?
What locations are they searching from?
Asking the above questions will help you with your keyword research and plan for website content.
Searching and discovering keywords
You most likely have a few keywords already in mind (seed keywords) that you want to rank for in Google. These are usually things like services, products, topics etc and a good place to start your keyword research. There are many handy tools online for searching keyword data such as this popular keyword research search tool by Moz.
These tools give you helpful data such as monthly search volumes and keyword variations that you can target. When you enter your seed keywords into a keyword tool, you will see other related keywords and topics that you probably didn't think about.
If we use our Johnson & Sons Removals company example:
Typing "removals" into the keyword research tool, the results should display relevant and related search terms such as:
Removal Company
Best Removal Companies
Man and Van Removals
House Removals
Furniture Removals
As you can see, "removals" is a rather wide search term. If you were to simply try and rank well for "removals" you might find that you are not targeting the right type of audience for your business. You'll also notice that "removals" will have a high search volume and keyword difficulty rating, which means it's a very competitive and difficult search term to rank for.
In our above example we could look to refine and target more local customers (Local SEO) for the business by using "removals London" as a seed keyword instead of "removals". Doing a keyword search for "removals London" will bring in more relevant keywords and search topics that you might have missed.
Search volume
You will notice that each keyword listed has a volume data metric. Search volume is the average amount of searches per month. The higher the search volume for a given keyword, the harder it will be to rank high for in search engines. This is called keyword difficulty which we touched on earlier.
Larger established businesses and brands often take up the top 6-10 results for high-volume keywords on Google search pages. If you're a new business or website it will take a lot of work to rank high on the search page for the same keywords. It makes more sense to target lower competition keywords and search terms.
These are called long-tail keywords. The name comes from the lower long-tail section of a graph curve as seen below.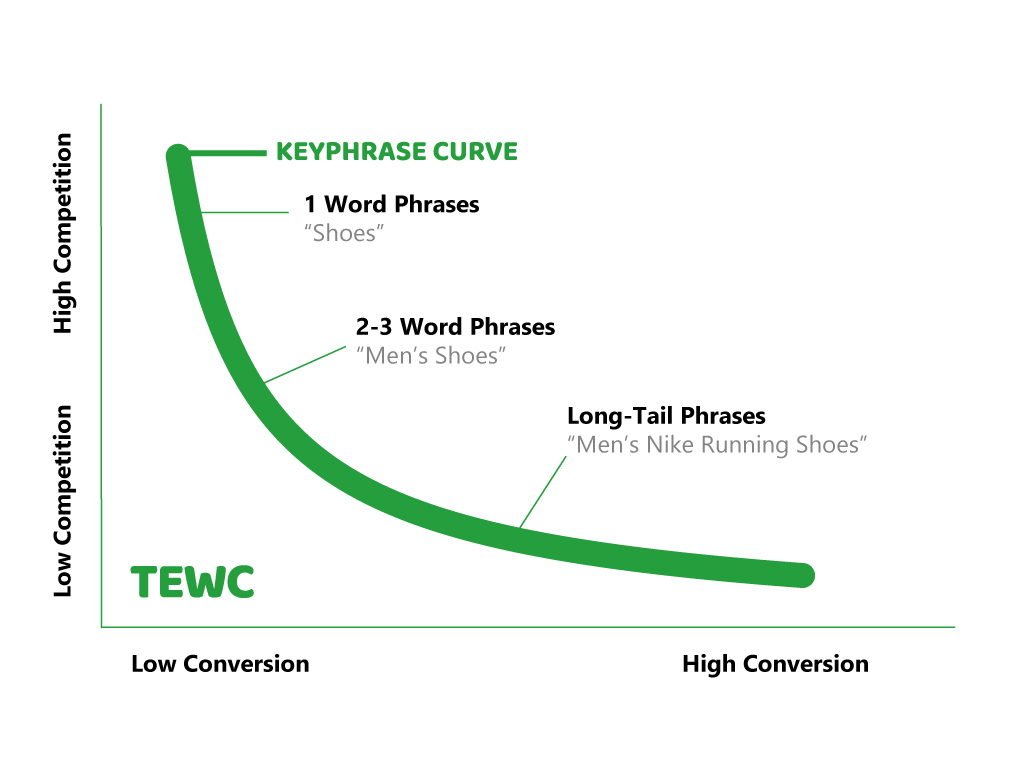 Long-tail keywords
It would be a mistake to skip over and underestimate these lower volume keywords. Did you know that Amazon generates 57% of its sales from long-tail product descriptions? Long-tail keywords often have a greater conversion rate, this is because they are more specific.
People using long-tail search terms are usually more than just browsing, there's a good chance they are ready to buy a product or call a company etc. Over time using long-tail keywords can bring you very high amounts of organic Google traffic making them very valuable.
At TEWC, we have the tools and knowledge to help you find and target the right keywords for your business. We specialise in growth and increasing organic traffic for businesses and brands. 
Contact our SEO company to partner with us and skyrocket your SEO.